Multiple piece, double monument cemetery memorials, are generally designed for traditional cemeteries to be erected over two burial plots located side by side.
All double monuments conform with, and are installed according to, the Australian Standards specified in "AS4204-1994 Headstone and Cemetery Monuments."
The exposed frontal surfaces all our memorial monuments are polished, unless a specified finish, such as natural rock or a sand blast finish is requested.
The images below show some of the designs available. Clicking on an image will take you to a page with full monument details.
| | |
| --- | --- |
| | |
| HT111 | HT104 |
IMPORTANT: It is fortunate that all catalogue items are normally in stock, making it feasible for us to complete the installation of a monument within 7 to 10 days from the date of accepting the order.
We are aware of the fact that a lot families have religiously important 30th Day, 60th Day or 100th day ceremonies, and would want to have the monument they ordered for their recently departed loved one to be in place on the day of the ceremony.
WE ACCEPT ORDERS WITH SUCH TIMELINES.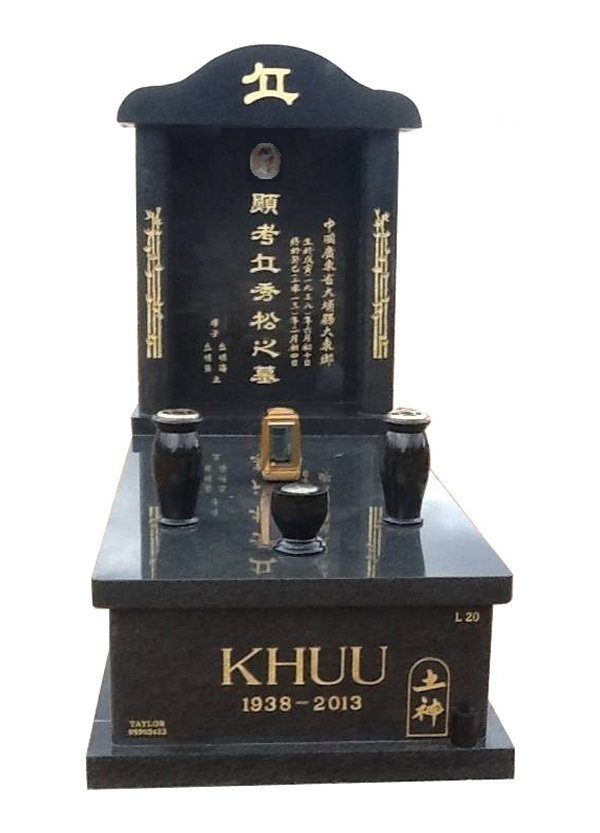 Please visit the page of this monument completed in LESS than 15 days from the date order received to date the monument was completed.
Cemetery Memorial Accessories.
We stock a wide of vases, flower arrangements, and other accessories.
Porcelain Photographs.
Have the photograph of your loved one permanently transferred onto a porcelain plaque and placed on their monument headstone, making them live in the minds of future generations.
Headstone quotes, wordings and inscriptions.
We can script headstone quotes, headstone wordings and headstone inscriptions in any language from English, Hebrew, Chinese, Greek, Italian, Arabic, all Slovak texts, all Indian languages, all Asian languages, even Aramaic.
We can install these double monuments in all Victorian Cemeteries. Please contact us at: