Monumental Masons Melbourne.
Taylor Stones was established as monumental masons in Melbourne on 21st April 1981, at our first premises in Nunawading.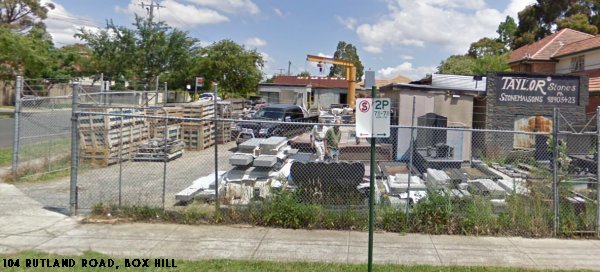 Moving to our current premises at 104 Rutland Road, Box Hill in 1983, we are proud to have supported the Melbourne communities with quality cemetery memorials since 1981.
Headstones have been used to mark the burial place of those that have passed since ancient times. They are a memorial to the lives of loved ones and the importance of the deceased.

Our headstones are constructed to Australian standards, and are crafted from a wide range of imported Indian Granites and Australian Granites. Understanding your desire for floral offerings and arrangements on your loved one's resting place, we provide a range of vases, flower arrangements and other accessories for each headstone.
Memories of a person who has passed on, are a priceless treasure to the loved ones left behind.
Taylor Stones perpetuate these memories by 'creating' perfect cemetery memorials – full monuments. The headstones, memorials and monuments are crafted from the highest quality, A grade natural stone.

Taylor Stones create testimonies to your memories with the best grave memorials, granite monuments and cemetery memorials.
Craftsmen employed by Taylor Stones are conscious of the fact, that cemetery memorials they are working on, are the highest form of respect to a loved one, hence need to be perfect.
Our director Mr. Haddon A Taylor, is well versed in quotations from the Bible and is skilled in writing memorial poems to suit the individual, especially in double monuments. We also assist in formulating text for the headstone.

We can script any language from English, Hebrew, Chinese, Greek, Italian, Arabic, all Slovak texts, all Indian languages, all Asian languages, even Aramaic.
Indian Granite for Cemetery Memorials.
Whilst our main thrust is retail, we supply a few other monumental masons with our quality Indian Granites exclusively imported, on a wholesale basis. It is common knowledge in the industry that India produces the world's best granites, but like every thing, it comes at a price.

Browse the galleries of our different types of cemetery memorials, to experience the splendour of Indian Granite at its very best, embellished by craftsmanship, second to none.

Want to listen to something that can really help? Please click on Devotional Songs and listen to the song of your choice. This link can also be found on the navigation bar at the top of the page.
Thank you for visiting Taylor Stones.
Haddon A Taylor.