"Gravestone and Monument Catalogue and Stock Items"
HT 211.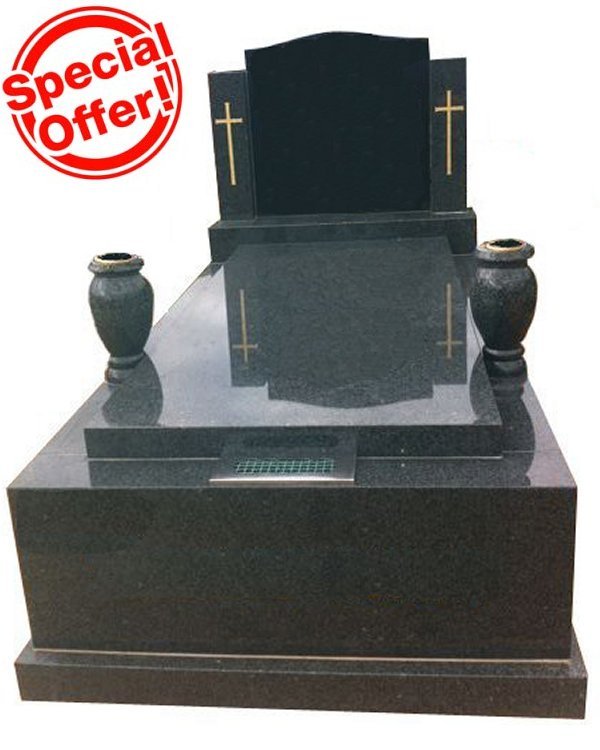 This distinctive single colour, all polished, full granite monument cemetery memorial is set on a pre poured concrete foundation with full Ashlar sub base surround, with all appointments:
Two Vases.

Dearly departed's photo reproduced on Italian Ceramic.

Gold inscribed lettering.

Extra – Cross and/or Angels if required.
Manufactured in Midnight Star Black Indian Granite is currently under Catalogue special.
Identical sets in stock with Raised Top Cover Slab.

Similar sets in stock with Flat Overlapping Top Cover Slab.

Prices quoted will be sustained for existing stock only.
Already installed in the Armenian section of the Springvale Botanical Cemetery.
Please click on the 'SARKISSIAN' image to view full details of installed monument.
Using only quality Indian granite, directly imported from our exclusive supplier, the above granite headstone over full monument has been hand crafted by skilled stone masons.

Please note that we can script headstone quotes. headstone wordings and headstone inscriptions in any language from English, Hebrew, Chinese, Greek, Italian, Arabic, all Slovak texts, all Indian languages, all Asian languages, even Aramaic
Please contact us for more details.